Amanda's Pix!
Welcome to my pics page - caution - proud pet mom alert!
Here are some favorite pix of mine! Gizmo was 23 when she passed away in 2006, She was a really special cat, a Calico Persian cross. Thor (a Himalayan)was around 12 when he passed away in July 2002, Wizard was born in 1996 and was with us until 2010. We adopted Shakespeare and Miou, both adult cats, and Sarge, who is a German Shepherd born in 2013. All of these guys are featured in later pix. We got him when he was 11 months old. We also have two adopted rats, Dexter and Julia. with us. Mork was adopted as an adult. He was with us for three years and passed away in 2005. All my cats were adopted as adults who were abandonned by their owners. I adopted Jimmy when her owner passed away in 2002 after walking her 5 days per week for nearly 3 years. I loved her and her owner dearly. Jimmy passed away in 2004. Now they are together. There is also a pic of me goofing off with my friend's green fronted Amazons in Brasil!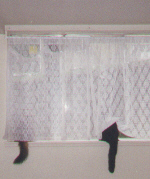 Cattails - Gizmo and Wizard on the ledge!

Gizmo

Gizmo, Wizard, Thor - not the best but one of a few with all 3!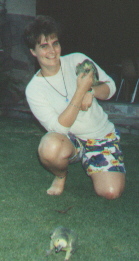 Amanda in Brasil with a parrot friend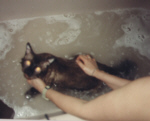 Thor in the tub

Wizard - the shaved patches are from being a blood donor for Vancouver's Animal Emerg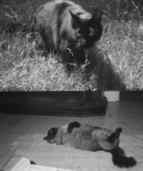 Wizard and Thor

Gizmo at Christmas - Baa Humbugg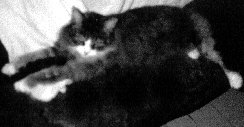 A typical Gizmo day